Report from UC Davis Noise and Air Quality Symposium
02.28.2014 | HMMH |
First, congratulations to Dan Frazee, 2014 winner of the Walt Gillfillan Award!  Until very recently, Dan was Director of Airport Noise Mitigation at San Diego International Airport where his department oversaw an award-winning residential sound attenuation program, conducted noise data management and led the community Noise Information and Education Program. Previously, he served as Noise Abatement Officer and Airport Operations Officer for the Sacramento County Airport System. He holds an FAA Airline Transport Pilot rating and is an FAA Certified Instrument Flight Instructor. He is also a retired USAF pilot and Army aviator with over 8,000 hours in rotary and fixed wing aircraft and previous work as a military Air Traffic Controller. He holds a BS in Education from The University of North Texas, a MS in Educational Psychology from The University of Texas at Austin, and is a Certified Member AAAE, and served as Chair of the Aircraft Noise working Group on the Environmental Services Committee for ACI. More importantly, he is one of the nicest human beings you will ever meet, and a good friend to many of us at HMMH.  We wish Dan all the best in his "retirement", which promises to be busy.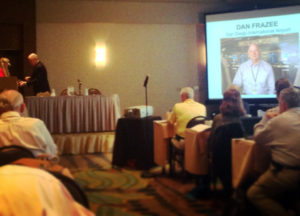 This year's symposium featured several new concepts, including a double-track (admittedly, not new, but something that hadn't been done for a while), and a "Vendor Showcase" for folks to learn about new product offerings.  Session titles included the following:
Performance-Based Navigation: An Overview and Experiences
NextGen and NEPA
Recent Noise Research
Fuel Advances and Emissions Reductions
Helicopter Noise Issues
Noise Office Responses to Air Quality Inquiries
Sound Insulation: The Community View
A Decade of Research
Upcoming Significant Revisions to FAA Order 1050.1E
Health Effects of Aviation
I moderated this last one, and want especially to thank Dr. Anna Hansell of Imperial College London, who spoke about her work on the Aircraft Noise and Cardiovascular Disease near Heathrow, and Dr. Sarav Arunachalam of University of North Carolina at Chapel Hill, who talked about his work on health impacts from aviation emissions.  This is a topic we should all monitor closely.