How did cities used to sound?
03.28.2013 | HMMH |
by Nick Miller
This is a question that many of us may have wondered about, but we at HMMH together with Professor Karin Bijsterveld of the University of Maastricht, Netherlands, her students, associates and staff of the Amsterdam Museum have provided an answer.  Several years ago I became aware of Karin's research on urban soundscapes via the internet.  I emailed her suggesting that there might be some synergies between her work on soundscapes and our work creating virtual realities with our Soundscape Builder™.  She initially responded that she didn't think so, but over the next year, she came up with some possibilities – including demonstrating how cities used to sound.  Eventually I traveled to Maastricht, demonstrated how our Soundscape Builder™ worked, and we both thought we could develop a useful collaboration.
Over the course of the following five years, Karin put together a proposal and was funded to conduct research on sounds significant in earlier eras in Amsterdam, and to assemble an exhibit for the Amsterdam Museum.  Using sounds researched by Karin, Annelies Jacobs, Alexandra Supper and recorded by Arnoud Traa , HMMH mixed, balanced, and conditioned the sounds so that they would be realistic if heard in Dam Square in Amsterdam.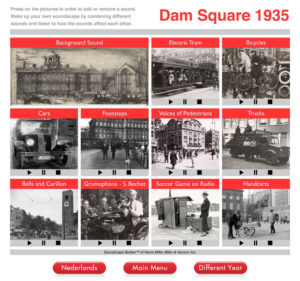 The Sound of Amsterdam exhibit is presented with a touch-screen and headphones.  The headphones provide the realism of binaural recordings, as does the Soundscape Builder™ referenced above.  Visitors can choose the year (1895, 1935 or 2012) and the sounds they want to hear.  The 1895 and 1935 screens provide eleven possible sources and single ones or any combination may be selected; both English and Dutch versions are provided.
The exhibit has had considerable attention with writer Warna Oosterbaan producing an article published in the NRC, a high quality Dutch national newspaper, and Arnoud Traa was interviewed on Radio 1, the most important news radio broadcaster in the Netherlands.
For me, the experience has been delightful, working with new friends, separated by thousands of miles and five time zones, but easily sending files and comments back and forth.  The grand opening to the public is 28 March 2013.
So how did Amsterdam used to sound?  Before predominance of the internal combustion engine – 1895 – the most notable difference for me was the absence of low frequency noise.  But add unmuffled cars and trucks (1935), with back firing and horns, and we become surrounded by a continuous rumbling din.