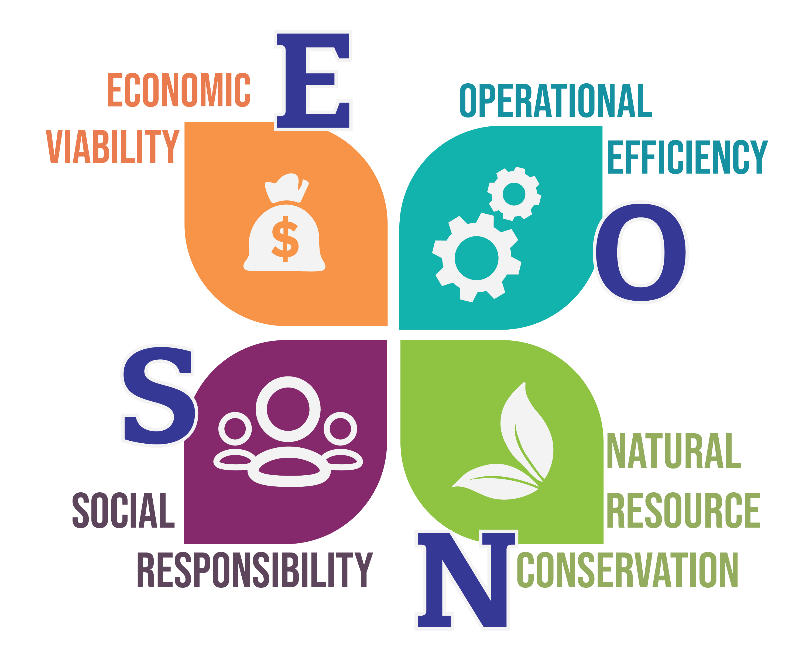 Throughout HMMH's 39-year history, the firm has developed a strong reputation for creatively addressing complex environmental problems in the transportation infrastructure sector, including consulting work and original research on evolving challenges such as sustainability, resilience, quality of life considerations, energy and emissions reductions, and mitigation strategies to solve for the environmental implications of transportation.
HMMH has experience working on airport sustainability ranging from comprehensive, system-wide sustainability planning and reporting to smaller-scale initiatives such as developing renewable energy installations or incorporating sustainable design principles into construction projects. HMMH has also worked with a variety of sustainable infrastructure sustainability rating systems, such as Envision and LEED. Sustainability programs save money and resources for airports while enabling them to meet community expectations and improve the customer experience, both in the present and in the future. The 2020 COVID-19 pandemic serves as an accelerator of change for the aviation industry, affecting all four major pillars of airport sustainability: Economic Vitality, Operational Efficiency, Natural Resource Conservation, and Social responsibility (EONS).
As the aviation industry charts a path to recovery from the impacts of COVID-19, HMMH recognizes that there is an emerging opportunity for airports to take a holistic look at their impacts on local communities, build stronger social connections, promote inclusivity, and celebrate diversity. While social, economic, and public health effects of the pandemic continue to unfold, maintaining airport longevity and gaining public confidence will be dependent on demonstrated leadership in all aspects of sustainability, combined with unconventional outreach efforts.
HMMH recognizes that transportation infrastructure owners and operators have the unique opportunity to not only support their communities socially and economically but also to represent the values of their communities. HMMH has developed a quality of life (QOL) framework under the Airport Cooperative Research Program (ACRP), providing a tool to facilitate a comprehensive understanding of what is most important to surrounding communities and what factors contribute most heavily to their quality of life (QOL). As a recognized leader in aviation noise and air quality modeling, documentation, and related public outreach facilitation, HMMH is experienced at helping our clients understand and address their environmental impacts. HMMH builds on existing expertise in combination with original ACRP research to support our clients in obtaining a broader picture of their impact on overall QOL. Although the QOL framework was developed with airports in mind, it is widely applicable to other modes of transportation and organizations outside the airport industry. HMMH is well positioned to work on emerging issues of concern, such as social sustainability, transportation public health considerations, and environmental justice implications of infrastructure projects.
HMMH understands that the longevity of the aviation and transportation industries depend on the ability to significantly reduce emissions and address climate change. We are committed to serving the aviation industry through our involvement in Airports Council International – North America (ACI-NA) and ACI World and the International Civil Aviation Organization's (ICAO) Committee on Aviation Environmental Protection (CAEP). HMMH has provided consulting services to aviation and ground transportation clients related to greenhouse gas (GHG) emissions inventories, GHG reduction strategies, quantification of the benefits of multiple sustainability initiatives, and feasibility of implementing renewable energy projects. Our team brings significant aviation industry knowledge and understands the unique challenges to executing emissions reductions strategies when stakeholders often have competing interests and missions. Understanding and valuing these perspectives is key to ensuring that all parties are onboard when working toward the shared objective of decreasing emissions. HMMH also takes our own contribution to climate change seriously and offsets our business travel carbon emissions through the Good Traveler Program.
Resilience has emerged as a recognized priority affecting all modes of transportation infrastructure as sea level rise​, storm surges​, flooding, wildfires, and extreme heat continue to affect facilities throughout the country. HMMH has experience conducting resilience analysis, feasibility, and projections. We have worked with clients to identify and assess risks, as well as develop risk management strategies to account for climate change impacts, such as those of extreme heat. We have experience performing data analysis and data visualization using recognized climate models.
HMMH has a long history contributing to industry knowledge through the Transportation Research Board's Airport Cooperative Research Program (ACRP) and other federal research projects. HMMH staff have directly served as Principal Investigators or subject matter experts on over a dozen ACRP projects. Our projects have combined extensive literature reviews, development of tools and guidance for technical and non-technical audiences, stakeholder engagement, and the identification of emerging industry best management practices (BMPs), to contribute practical solutions to current challenges. HMMH has also developed strategic research roadmaps to identify knowledge gaps and serve as planning tools for communicating and prioritizing industry needs, as well as providing a step-by-step guidance for achieving long-term goals.
HMMH has a proven reputation for incorporating strategic and innovative approaches to stakeholder engagement. We have experience working with local, state and federal agencies, airports, airlines, tenants, elected officials, interest groups and community members to develop solutions to complex and technical problems. HMMH applies our decades of knowledge to ensure an inclusive approach to stakeholder engagement at every level.
HMMH remains an industry leader in planning and executing solar projects on and near airports, taking into consideration not only the financial benefits of such installations, but the safety implications for passengers, pilots and air traffic control staff alike. In addition to solar power, HMMH has studied the feasibility and overall benefit of other energy sources including geothermal, biomass, wind, fuel cells and natural gas exploration. We develop cost-effective solutions that take advantage of available government incentives and apply customized software and tools to support our work, and to effectively communicate with the public.