Of Noise and Nature
12.22.2016 | HMMH |
By Nick P. Miller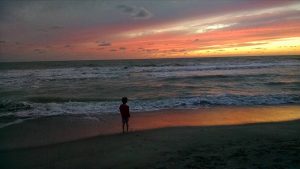 I wonder how many people experience the sense of peace and uninterrupted reflection that comes from the "quiet" of nature, unaffected by human sounds.  I know I was aware of how special it seemed when I was vacationing as a kid with my family on Lake Champlain and walked to the shore in the evening.  I heard only rippling of the water – nothing else.  Every time I'm in a place of such quiet, whether a National Park or early Sunday morning at home, I'm awed.
We're usually not much aware of the sounds around us; so many are worth ignoring.  I think you need an attentive awareness of what you can hear to really register the effect of quiet.  However, if we pause and listen for a minute or two, the multiplicity of sounds may be surprising, especially in a city.  In fact, that's the only time most people notice the sounds that they can hear – when they stop and reflect.  For most of the time, we tune out and don't consciously hear the sounds that are irrelevant to us.
There is some science that shows how the audible and visual features of a place interact to convey an impression.  Forty-four subjects were instructed to judge the tranquility of audio / video presentations of 11 relatively "tranquil" locations on a scale of 0 (not at all) to 10 (very much), and that they should judge a tranquil environment as one that they considered a quiet, peaceful and attractive place to be.  The figure below shows the results.   Except for Otley Market and Building Site, the locations are primarily natural.  The combined audio and video presentation ratings show not only the interaction of the two, but that together the resulting tranquility rating is not necessarily an average of the two separate responses.  Broadly speaking, the audio for these 11 locations tends to either support the visual sense of tranquility or reduce it.  That is to say, a place can appear very tranquil, but the sounds can ruin that sense.  This degradation by incongruous sounds is more significant the more natural and beautiful is the visual.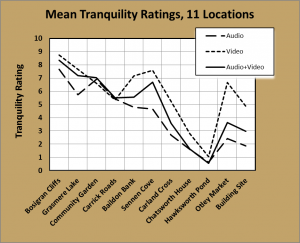 Other studies have demonstrated that locations with natural sounds and landscapes can be restorative and that spending time there will actually clear your mind.  People's problem solving is improved after spending time in a setting that is predominantly natural.
Unfortunately, it is becoming more and more difficult to find places dominated by natural sounds.  The things we want (thanks for the idea Garret) – cars, planes, various recreational vehicles, leaf blowers – are so ubiquitous that it's hard to get away from their noise. Even in natural areas you'd expect to be very quiet, it's possible to hear a chain saw or small plane miles away.  Most ubiquitous are high-altitude jets; at six miles high, they can be as much as 20 dB louder than quiet natural settings; 20 dB louder is a lot – an intruding sound you couldn't ignore.  And consider that the most beautiful natural places are the ones that most easily lose the sense of solitude and tranquility they convey when human sounds intrude.
I admit real quiet can be spooky for some.  If you're a city person, enamored of the hustle and bustle, then maybe serious quiet might be unsettling.  But I have found, and I think most people will, that time spent in nature with little other than natural sounds can be a wonderful, memorable experience, later pleasantly recalled.