We've Moved (Sustainably)!
02.05.2020 | HMMH |
Last week, HMMH successfully moved into our new Burlington, MA headquarters. Like any move, this was the result of months of careful planning, purging, and preparing. The new office is a physical reflection of how our company has transitioned in the last few years. We have grown tremendously, with more than half of our staff added in the past three years, and expanded geographically with offices in Anaheim, CA and New York City and a growing cadre of remote workers. Due to these changes, a smaller percentage of staff is located in our headquarters. HMMH needed a more compact, efficient, and modern headquarters workspace that promotes collaboration.
As an environmental consulting firm, we walk the walk when it comes to sustainability, so it was very important to us that our new space and our move be as sustainable as possible.
Moving Company:
It was important to us that we hire a moving company with an established track record of helping businesses plan sustainable moves. For this effort we teamed with Re-Stream, a Green Logistics company focused on environmental responsibility by reducing waste, including during office relocations. Like HMMH, Re-Stream is a women-owned business enterprise and is local, based just a few miles from Burlington in Waltham, MA. Re-Stream donates used office furniture to local non-profits and recycles what can't be donated to minimize material that goes to landfill. Since HMMH purchased new all new furniture for our office, the fate of our old furniture was a very important consideration! In addition, Re-Stream provides environmentally friendly packing products.
Office Furniture:
For our new furniture, HMMH selected AIS as our vendor. AIS is a leader in its industry for their sustainable practices. AIS employs lean manufacturing principles to minimize waste, and all their products contain at least 40 percent recycled materials. Waste that is generated in the factory is saved and converted into products or recycled. All cardboard and wooden pallets are recycled and reused, and all sawdust is collected and sent to one of their suppliers to be recycled into particleboard. AIS also actively seeks suppliers with robust sustainability initiatives to ensure their products are sustainable up and down the supply chain.
Office Furniture by AIS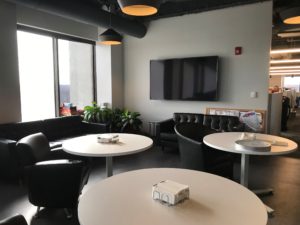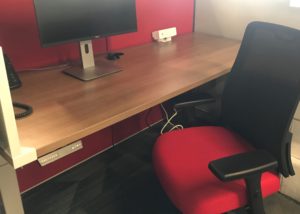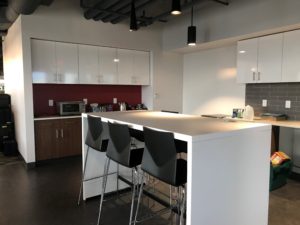 The AIS facility is optimized for energy efficiency and their factory is equipped with enough solar panels to completely power their operations during peak generation periods. In addition, through efficient transport, implementation of new manufacturing technologies and purchase of carbon offsets, AIS' carbon footprint has almost reached zero!
AIS furniture is certified sustainable from the Business and Institutional Furniture Manufacturers Association (BIFMA) at the e3 level. This third-party standard takes into account a product's environmental impacts such as materials used, energy, health and wellness impacts and the manufacturers social initiatives.  AIS has number of impressive practices including being the largest employer in central Massachusetts and recruits locally. They employ close to 600 employees, 35% of which are women! They partner with local high schools and colleges to develop curriculum, provide advancement opportunities to staff, and provide training in multiple languages. All staff are encouraged to submit their ideas for improvements and are given the opportunity to present their ideas to management and are celebrated monthly.
Finally, AIS works with ANEW to provide take-back services for surplus office furniture. This service is offered to AIS customers to avoid sending materials to the landfill, as items are donated to non-profits and public agencies within a local (50 mile) radius area. Since 2010, ANEW has diverted over 13 million pounds of materials from the landfill, serving over 800 organizations.
AIS Factory in Leominster, MA.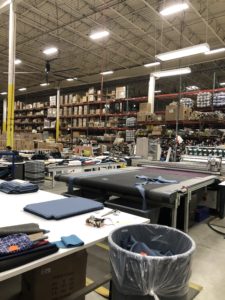 AIS Factory in Leominster, MA. Solar panels provide 100% of the energy needs during peak output times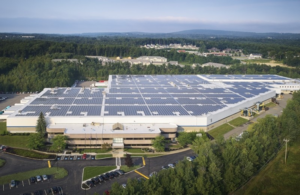 The New Space
Finding a sustainable property was important to HMMH, and we sought a LEED certified space. While we weren't able to find a LEED certified office building in our desired geographical area, our selected building has many sustainable features which we are excited about, including a bike share, EV charging stations, access to public transportation, fitness center and yoga space, pedestrian trails and pocket parks. In addition, we take several other steps to reduce our headquarters environmental footprint, for example lighting controls, recycling, ENERGYSTAR certified appliances, and no plastic water or soda bottles.