Katherine Preston Announced as Aviation Group Leader
11.12.2020 |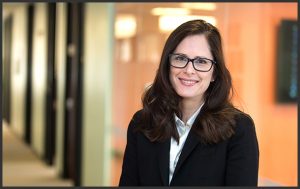 HMMH is excited to announce the promotion of Katherine B. Preston, ENV SP to Group Leader of Aviation Environmental Services. Katherine has been involved in the Aviation industry for more than 15 years. She has extensive experience in environmental policy and government affairs and has a passion for sustainability. Katherine has managed traditional environmental review projects, renewable energy feasibility studies, federal research projects for the Transportation Research Board, developed regulatory guidance, and community outreach tools. In addition, she is an active member of several industry trade associations, including the Airports Council International – North America and American Association of Airport Executives.
"I am excited that Katherine is joining the senior leadership of HMMH. She is a strong manager and a big thinker. Her experience in all sectors of the aviation industry affords her a unique perspective and deep understanding of the environmental challenges facing our industry. I look forward to seeing her succeed in the position." – Mary Ellen Eagan, HMMH President and CEO
Katherine replaces Gene Reindel, who will be devoting more of his time to client service management.