HMMH Announces Recent Promotions
08.12.2019 |
HMMH is pleased to announce the recent promotions of Rhea Gundry to Principal Consultant and Julia Nagy to Senior Consultant.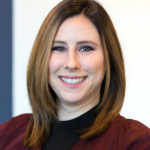 Rhea Gundry's work over the last several years has been of the highest quality. She sets standards of excellence in both technical endeavors and communications for the firm – from mentoring staff consultants, to managing our work with the Maryland Aviation Administration, to moving to New York to expand our practice there. Rhea also serves as the Airport Consultants Council (ACC) Young Professionals' Vice Lead, continuing to increase HMMH's industry visibility and establish herself as an emerging leader.
Gene Reindel, Director of Aviation, said, "Rhea excels at learning from and encouraging and promoting the people around her. It is a pleasure to provide this promotion and I look forward to her continued growth and leadership at HMMH and in our industry."
Julia Nagy's has been instrumental in the success of a number of high-profile projects, including ACRP 02-76 "Optimizing the Use of Electric Preconditioned Air and Ground Power Systems" and ACRP 02-83 "Measuring the Quality of Life in Communities Surrounding Airports." Her work has focused on noise, airport stakeholder engagement, research on best practices/guidebooks on various subjects, sustainability, and renewable energy. She also recently completed her Envision Sustainability Professional certification.
"Julia is an invaluable member of our team. She has proven to be very detail-oriented and conscientious and is always seeking innovative solutions to provide the best service to our clients" said her manager, Katherine Preston, ENV SP, Principal Consultant.
We congratulate Rhea and Julia on their promotions and wish them continued success at HMMH!