International Noise Awareness Day
04.29.2020 | HMMH |
This International Noise Awareness Day, the world is quieter than usual. With COVID-19 keeping millions of people across the globe indoors, one trickle-down effect has been a drop in noise levels. The change has been felt strongest in cities, where cars, sirens, construction, aircraft, and other man-made machines dominate the soundscape at all hours.
The effects of social distancing and stay-at-home orders across the world are a steep challenge for our busy culture and the economy to cope with, but in addition to protecting human health, this dramatic slowdown of human activity has resulted in some positive changes in the environment. It is striking that after only a few weeks of humans reducing their footprint, air pollution has noticeably decreased in many cities. Geoscientists in Belgium have even noticed a decrease in seismic vibration. More people seem to be noticing (and tweeting about) birdsong outside their windows, and birds are enjoying their moment to pipe up this spring.
COVID-19 has given scientists a unique environment to study. At HMMH, two of our consultants — Justin Cook and Irene Ramirez — utilized this time to monitor the changes in community and airport noise levels, operations, and noise complaints at two airports.
The data displayed in the two figures below is from March 1 to April 21, 2020 and is compared to the pre-COVID timeframe of November 1, 2019 to February 28, 2020. The black and blue lines represent daily percent change in airport operations and complaints, respectively. Meanwhile, the orange and green lines are daily change in noise level (in decibels) from the airport and community, respectively.
Airport A, shown in Figure 1, is a large-sized airport with predominantly air carrier operations. The data shows that airport noise has dropped by as much as 9 dB Community Noise Equivalent Level (CNEL) over this period; airport noise is now significantly lower than community noise, even considering that community noise has decreased. Operations and complaints have both decreased. Community noise, meanwhile, also dropped at the beginning of the pandemic, but has been slightly increasing over the last few days of the sample. There appears to be a correlation between operations and complaints.

Figure A: Airport A between March 1 and April 21, 2020. Data sourced from NOMS system at each airport provided by Envirosuite. Analysis by HMMH.
HMMH also examined a smaller airport with predominately general aviation operations. At the second airport, shown in Figure B, airport and community noise have dropped; here too, airport noise is now lower than community noise. Airport operations have dropped slightly but have started to increase. Complaints initially increased but are now declining. Trend lines for CNEL airport and community are slightly inversely proportional and the same can be said for the operations and complaints.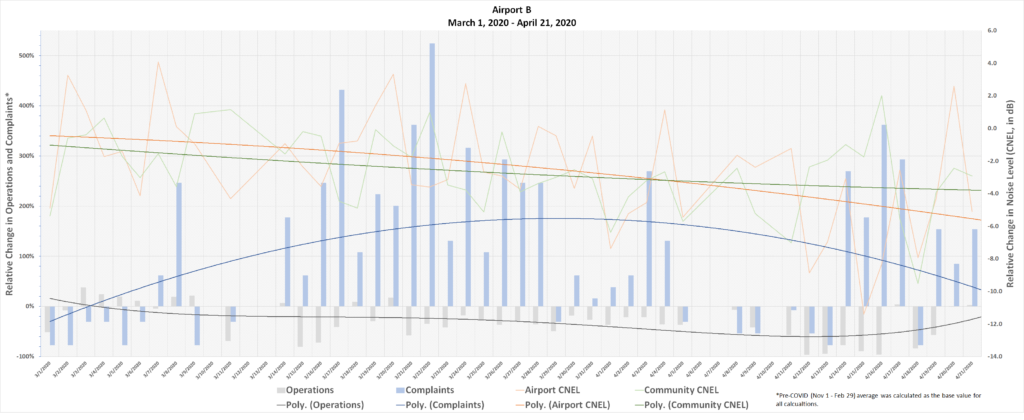 Figure B: Airport B between March 1 and April 21, 2020. Data sourced from NOMS system at each airport provided by Envirosuite. Analysis by HMMH.
HMMH will continue monitoring these data and plans to expand to more airports. If you are interested in participating, please contact Justin Cook.
Wednesday, April 29, marks the 25th anniversary of International Noise Awareness Day and 2020 is also the International Year of Sound. Founded by the Center for Hearing and Communication, the day was established to raise awareness about the impacts of noise levels. It's too early to understand the long-term impacts of this unprecedented moment on the environment, but on this International Noise Awareness Day, it's an opportunity to see – and listen – to the effects of a less busy world.